Crystal River Florida Area Information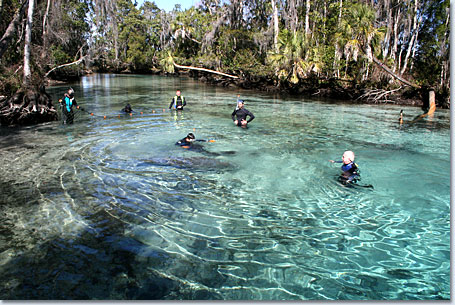 Kings Bay is a 600 acre bay, the headwaters for the Crystal River, a tidal river which flows 7 miles to the Gulf of Mexico. The City of Crystal River, incorporated in 1903, is the self-proclaimed "Home of the Manatee". We have the largest concentration of manatees than anywhere else in the world in the winter months. Jack Cousteau and Bert Reynolds helped with making 3 sisters popular when they dove and did a manatee rescue in the early 70s.
Three sisters' spring is the last undeveloped habitat in Kings Bay which is the head waters for the Crystal River. The spring is accessible by land only on certain days during the year, and from November 15 thru March 31 by trolley from the Visit Citrus County Center on US 19 in Crystal River. The springs have a constant temperature of 72' degrees which provides the warm water essential for manatees in the cold weather. The springs in Kings bay are known as a 1st magnitude system which means they discharge 100 cubic feet or more of water pressures equal to about 64 million gallons of water per day, the 2nd largest spring group in Florida. This is also the only place in the United States where people can LEGALLY interact with wild manatees in their natural habitat.
Within the wildlife refuge there are approximately 70 known springs with the primary springs being Idiots Delight, Three Sisters Springs ( which consists of Perry Sister, Big Sister, and Little Sister) and the King Spring group which includes Tarpon Hole, Mullet Hole and Little Hidden Spring. Other springs in Kings Bay are Hunter Spring, which is a public park and offers a beautiful swim area, covered picnic pavilion and public rest rooms, Jurassic and House Springs. All of the springs with the exception of Hunter are accessible by boat only.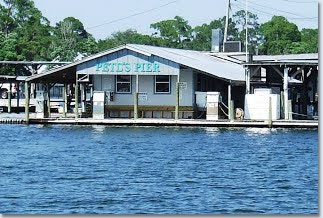 Paddle craft launch areas are available to the public at Kings Bay Park and Hunter Springs. Public boat launch areas are available Pete's Pier, 1 SW 1ST Place, Crystal River and City Boat Ramp 558 NW 3rd Ave., Crystal River. There is a parking at Pete's Pier and launch fee. Attractions nearby are the Crystal River Preserve State Park, the Crystal River Archaeological Park and the Homosassa State Wildlife Park.
Crystal River has some of the best local restaurants within a five minute radius of our location. They serve a variety of different foods from burgers and fries to shrimp and steak and much more. If you are coming from out of town and needing a hotel for a few nights with great prices you can find a few hotels located right down the road from our location.
Located 7 miles south of us in Homosassa we have the Homosassa wildlife park that showcases native Florida wildlife, including manatees, bobcats, black bears, American alligators, American crocodiles, and white - tailed deer. This is a fantastic place to take the family after a day of swimming with the manatees.
To book a Family Adventure Charters, call us direct at 352 445-5489.